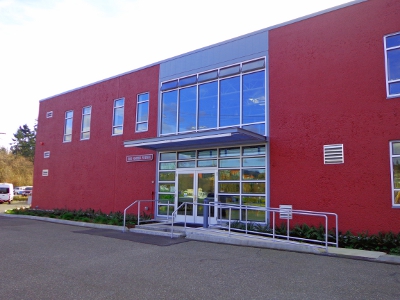 Our Business
Index Sensors & Controls creates Solutions that make sense for industrial equipment & vehicle markets with:
Innovative, performance-enhancing switches, sensors and controls, which add Precision, Protection, Reliability, and Intelligence
Efficient, lean business processes and value-added services
Satisfying relationships with Customers, Suppliers and Employees
Read more about: Markets & Customers, Product Families, System, Facility and Location
Markets & Customers
Index is a leading manufacturer of switches, sensors, and controls for the commercial truck, engine, agricultural, off-road and industrial equipment markets. We specialize in temperature, pressure, and control logic applications. We are proud to supply manufacturers of some of the world's toughest equipment, including Cummins, Caterpillar, John Deere, all makers of Class 8 trucks, and a wide range of specialty original equipment manufacturers (OEMs).
Product Families

Air Conditioning Controls
Protective controls that extend life and service intervals for air conditioning system by preventing heat and over-cycling damage from improper pressures and voltage. Including: AC-X10 A/C Life Extender, and APAds A/C Protection and Diagnostic System.

Electronic Temperature Switches
Custom-programmable flexibility and functionality, including multiple outputs, timed switching, blink signals and more. Highly accurate temperature monitoring, control, overtemp warning and shutdown for engines and industrial equipment.

Mechanical Temperature Switches
Economical, workhorse devices for temperature control temperature and monitoring for engines, hydraulics, and similar applications in on- and off-road vehicles and stationary equipment.

Pressure Switches
Rugged, long-life switches for pressure control, indication and cutout. Applications include air conditioning, transmission, air pressure, and oil pressure.

Embedded Control Modules
Flexible "distributed intelligence" modules applying custom-programmed control logic to a variety of potential inputs. Can include user interface panels or keypads.
Quality Management System
Index has operated under an ISO-9000 / QS-9000 compliant quality management system since 1996. We have updated and registered to the ISO-9001:2016 T/S(IATF) 16949 quality system standard.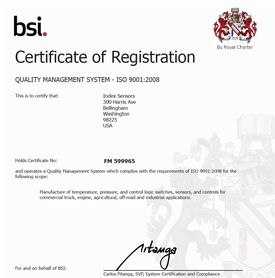 Index employs continuous improvement and lean manufacturing principles throughout our operation. Since October, 2002, our lean initiatives have reduced inventories by 28% while maintaining on-time deliveries.
Facility and Location
Index's manufacturing facility and offices are located in Bellingham, Washington, 90 miles north of Seattle on the Interstate 5 corridor. Our region offers a large pool of experienced, well educated, and well-qualified candidates for all types of positions. Opened in 2012 and constructed to LEED Gold standards, our building was designed to support Index's advanced engineering and quality labs, world-class manufacturing processes, flexible layout, effective inventory management, and advanced computer information system. Prior to 2012, the company was located 50 miles south, in Stanwood, Washington.