Join the Index Team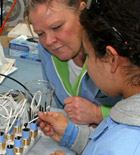 If you are looking for a position where you - as an individual - can have an impact on both the company you work for and your own destiny, you've come to the right place.
And what do we offer in return? We could give you the standard line about competitive salaries, good benefits, Equal Opportunity Employer, and all that - all of which is true. But what might be more important to you is what our employees say: that Index is a great place to work.
Maybe that's because every employee is viewed - and respected - as an individual. Because we offer our employees room to expand their capabilities and we consciously develop the smooth communication and work processes it takes to support individual and shared success. We also live by the notion that work should be satisfying and fun!
Help us build our team at our facility in Bellingham, WA.
Index Sensors & Controls is currently looking for talented individuals to join our team. All current opportunities are listed below.
Send résumé, cover letter and salary expectations to:
Index Sensors & Controls Attn: HR
300 Harris Avenue,
Bellingham, WA 98225
Fax: 360-629-4736
Email: hr "at" indexsensors.com (make subject line the job description title)